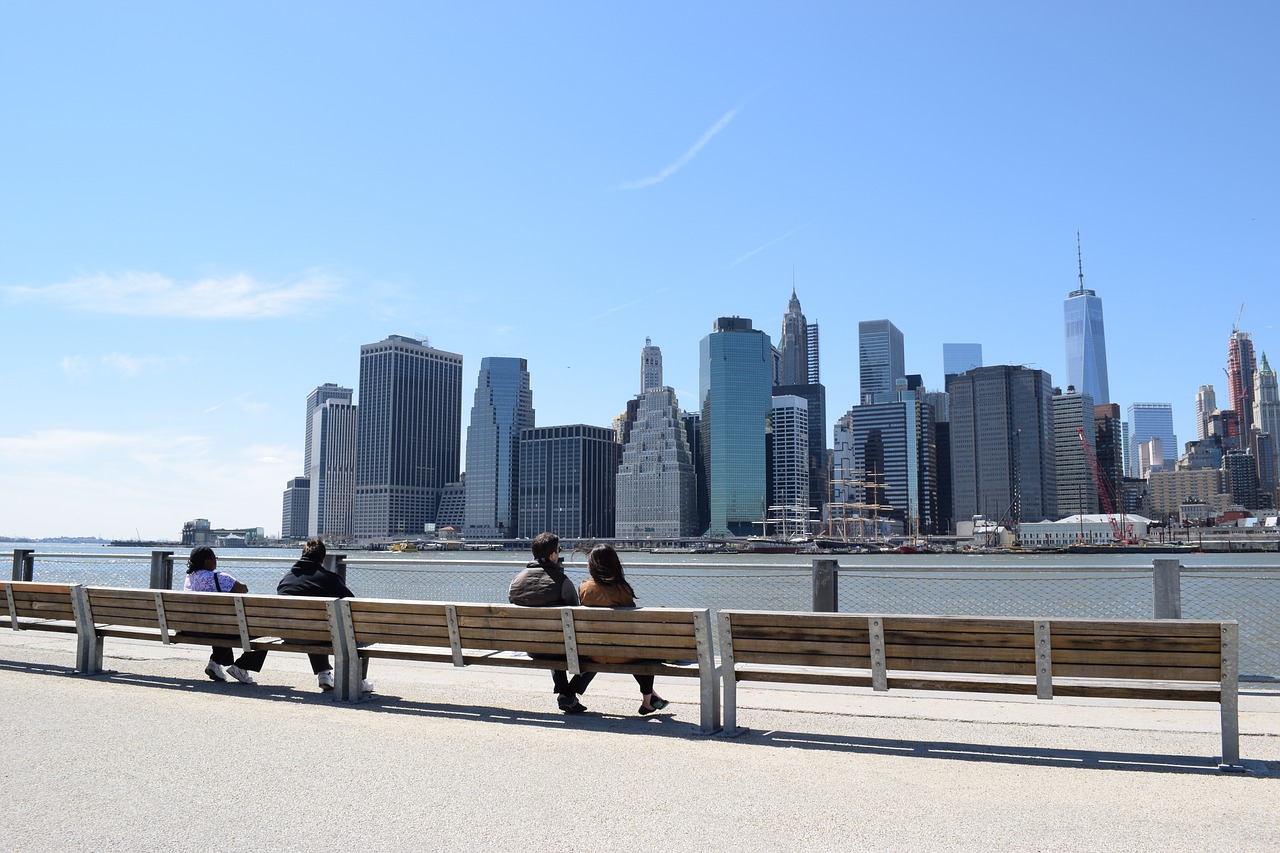 Brooklyn is one of the five Boroughs into which the city of New York is divided. While it is the district with the most population, it is not the largest area. In the last decade, Brooklyn has grown exponentially with thousands of tourist options for those of us who visit it. It's a beautiful place filled with old architecture, beautiful parks and great food! It is very well connected to Manhattan by 3 bridges and subways, so getting to the different neighborhoods of Brooklyn is fairly simple.
The most popular destinations to visit in Brooklyn are:
DUMBO
Due to its proximity to Manhattan, Dumbo is the neighborhood that has probably grown the most and receives the most visitors. With its beautiful coastline overlooking Manhattan, it's definitely a must on any trip!
Very easy to get to by just crossing the Brooklyn Bridge from Manhattan by car or just walking!
Also at the intersection of Washington and Water you can get a very sought-after photograph of the Empire State Building inside the Manhattan Bridge.  Dumbo park has great access to the river and amazing views of the Brooklyn and Manhattan bridge as well as the NYC Skyline! Great place to visit at night!
Restaurants are abundant!
BROOKLYN HEIGHTS
Is located just over the Manhattan or Brooklyn Bridge if we have been crossing from Manhattan. It;s a residential neighborhood with beautiful brownstone houses from late 19th & early 20th century that make you want to live there!
It's a short walk to the Brooklyn Promenade river that allows you to get incredible views of the New York skyline and the Statue of Liberty in the distance. A GREAT place to visit at night for amazing views of NYC.
PARK SLOPE / PROSPECT PARK
A neighborhood that is in the middle part to the east where we have a beautiful huge park in which we can enjoy various activities such as the Smorgasburg fair, the Brooklyn botanist, a skating rink and more!
BUSHWICK
Another neighborhood very visited by the street art that flood its walls and some amazing restaurants.
WILLIAMSBURG
Easy access from the L train to bedford Ave, its main street Bedford is full of super interesting shops and restaurants to visit.
Its gastronomic offerings are enormous and on the coast we can also see beautiful images of Manhattan.
CONEY ISLAND
Destination is in the southern area of Brooklyn, visited mainly in the summer to enjoy its amusement park and its huge beach. Plus many DJ's and dancing on the board walk!
From Manhattan you arrive with the Q line taking approximately one hour.
Obviously, there are many more interesting things to do in Brooklyn, so I suggest you leave one or two days to visit one of these destinations.
BROOKLYN HEIGHTS
,
brooklyn heights promenade
,
brooklyn night activities
,
brooklyn points of interest
,
BUSHWICK
,
CONEY ISLAND
,
free things to do in brooklyn at night
,
free things to do in brooklyn today
,
free things to do in williamsburg brooklyn
,
things to do in brooklyn
,
things to do in brooklyn at night
,
things to do in brooklyn this weekend
,
things to do in downtown brooklyn
,
things to do in dumbo brooklyn
,
things to do in williamsburg brooklyn
,
what to do in brooklyn for a day